Cross-country Skiing in the Zillertal Arena
Glide through the stunning mountain scenery
Winter sports enthusiasts look forward to gliding through the wintery mountain scenery of the Zillertal on perfectly groomed cross-country skiing tracks. The tracks are freshly prepared every day between December and Easter, providing excellent conditions for classic and skating style. The tracks vary in length and difficulty, offering cross-country skiing fun for beginners and experienced skiers.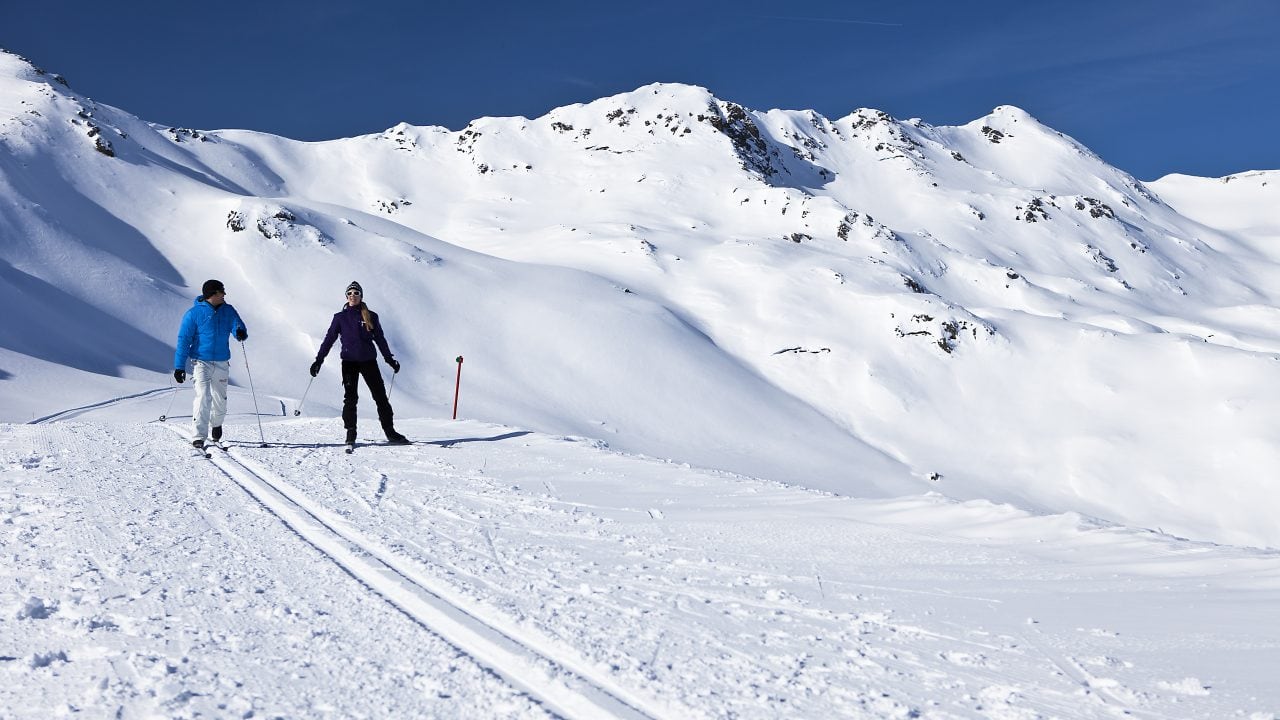 Cross-country skiing in the Zillertal
27 kilometres of well-groomed tracks can be found in the direct surroundings of Gerlos. The entire Zillertal Arena in Tirol boasts a network of more than 200 kilometres of classic and skating trails.
Our special tips for cross-country skiing in Gerlos and surroundings
Length: 2.5 km
Difficulty: easy
Starting point: Mountain station Königsleiten
Description: Enjoy the magnificent winter scenery on the new high-altitude trail at an altitude of 2315 metres.
Length: 6 km
Difficulty: easy
Starting point: Car park Oberwirt
Description: The trails leads along the left river bank in direction "Innertal" valley past the "Krafthaus" until you reach the "Funsingau". On the way back you cross the wooden bridge and follow the trail to Gerlos past the "Schönachhof".
Length: 7 km
Difficulty: moderately difficult
Starting point: Sporthotel Gerlosplatte
Description: On the Gerlosplatte (1,640 m) you find the highest trail (loop trail) in the National Park "Hohe Tauern". The loop trail is highly demanding, but the efforts are rewarded by a fantastic panoramic view.
Length: 7 km
Difficulty: easy
Description: The scenic trail in Königsleiten connects to the 200 km long Pinzgau trail. An absolute highlight is the almost 1 km long "Finkrunde" in Vorderkrimml. The route is illuminated and is open until 21.30.
Length: 6 km
Difficulty: moderately difficult
Starting point: Car park Oberwirt at the entry of the"Schönachtal" valley
Description: The trail leads over hilly terrain along the right river bank to the entrance of the "Schönachtal" valley. It is one of the most beautiful and most popular trails of Gerlos. At the end of the cross-country skiing trail you will reach the "Lackenalm" mountain hut after a short walk.